What is a Bunky Bear?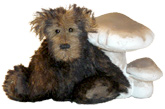 Bŭn'ky, adj. (sl.). 1. Full of nonsense. 2. Huffy, sullen or silent: particularly Bears in need of a hug™.
Our bears don't like to be ignored - before you decide to give one a home you need to realise that you will have to pay them plenty of attention.
Bunky Bears are collector's items made using traditional methods & materials—they are not toys and are not suitable for children under 14 years.
Who are we?
We are a husband and wife team specialising in the making of one off and limited edition traditional and contemporary artist bears.
Having started as collectors we began making bears to extend our interest, finance our hobby and add to our own Hug. We now supply a number of specialist bear stockists as well as taking direct orders and individual commissions.
How limited is limited?
Here at Bunky Bears we believe that limited editions should be just that. All of our bears are one offs or part of short runs—usually half a dozen or less.
What is an Artist Bear?
Artist Bears are the work of individual teddy bear artists from design through to completion, each striving to create their own unique interpretation of the ideal bear for the discerning teddy bear collector (or arctophile).
Whether dressed or bare, traditional or contemporary, large or small, a true artist bear will be a unique but recognisable expression of the creativity and character of the teddy bear artist.
Bunky bears are pleased to announce that Teddy Bears on the Net were so taken with our bears that they interviewed us as their 17th guest artists. A copy of the Teddy Bear on the Net Interview can be found on this site and the original can currently be found at http://www.tbonnet.com/.